Activities and Achievements
Novato Fiesta
The fresher's day 2019 – 'Novato Fiesta' conducted by the Dept. of Botany on 5th July. First year students were welcomed with sweets and 'Chekkutty paava' made out of waste cloths. Various games and cultural programmes of students were conducted and a special care was taken by students to make the programme eco-friendly with minimum waste generation.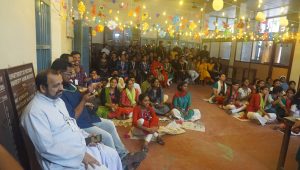 ---
Association Inauguration and an Invited talk on Carnivorous plants
Botany Association Inauguration was conducted on 8th August 2019 enriched with an invited talk by Mr. Nirmal Kumar, Interior Designer and a true nature lover who has a spectacular collection of carnivorous plants. He led a class on various carnivorous plants with live examples. Carnivorous plants like Dionaea sp. (Venus flytrap), Nepenthes ventrata (pitcher plant), Pinguicula sp. (Butterwort), Drosera spatulata (Sundew plant), Sarracenia purpurea (purple pitcher plant), Cephalotus sp. (Australian pitcher plant), Heliamphora sp. (Sun Pitcher Plant) were exhibited.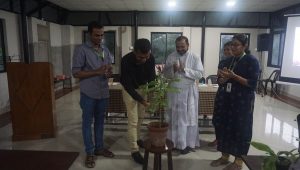 ---
'Christmas under the stars 2019'
The Christmas celebration of Dept. of Botany was conducted on 20th December 2019. Christmas tree and crib were arranged at the entrance of the department. Fr. Jose John, Head of the Dept. of Botany delivered a Christmas message to the botany community. Carol singing, Cake distribution and Dance with Christmas Papa added colours to the day.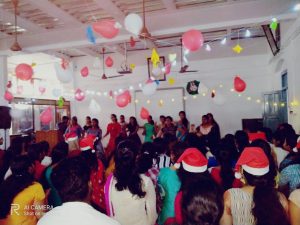 ---
'Pragathi 2020'
Dept. of Botany organized an exhibition cum sale of hands on training products and fruit fest – 'Pragathi' on 30th January 2020 at Platinum Piaza. A wide variety of hands on training products prepared by final year B.Sc. Botany students were exhibited for sale. Homemade chocolates with unique flavours, various processed fruit products, mushrooms, vermicompost, decorated waste bottles, ornamental plants, homemade food products etc. were exhibited.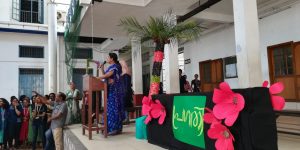 ---
Five day Workshop on Skill Development in Research Writing 2020
The department organized a "Five-day workshop on skill development in research writing" which was held from 21st to 25th January 2020. The workshop focused on sharpening the skills of researchers and other science communicators in summarization and categorization, critical and analytical thinking, explanation and communication of research findings and so the target audience was both within and beyond the academic community.
Various sessions were handled by eminent scientists from different parts of the country, namely, Prof. K.R. Shivanna, Dr.Rajesh Tandon, Dr. Rajeev Raghavan, Dr. K. A. Subramanian, Dr. Dileep Mampallil, Dr. Sanjeeva Nayaka, Dr. Robert John Chandran, Dr. C S Francis, Ashok R. Chandran and Dr. Giby Kuriakose.